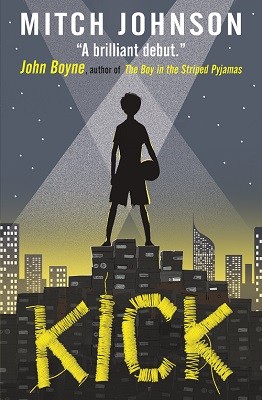 I've read many children's fiction titles recently, but this one really stood out. Partly because of its setting (Indonesia) and partly because it's aimed at football-obsessed children (that is, the elusive to booksellers, boy reader).
This is the perfect book to recommend to a 'typical boy' who is looking for something more complex than Walliams, Baddiel, Kinney, et al. It will shake the reader out of their Western complacency, obsession with the Champions League, celebrity players and putting the latest, most expensive football boots on the Christmas list.
Because this is the story of a boy who, like them, is obsessed by football, but – probably unlike the anticipated reader – knows the true price of these football boots.
Because he made them.
Budi works in what we would call a 'sweat shop'. He spends a punishing day sewing together the boots which are sold internationally. His particular area is 'the uppers' in which he takes pride. No-one in the factory is beyond being put on 'boxes'; putting together the shoe boxes for hours on end. Budi is paid a pittance for a very long day's work. Even his wage – and that of his father – is not enough to put much more than rice into their bowls at dinner time.
Life is unfair, power is unbalanced, decisions are tough.
But Budi has a loving family (mum, dad, grandma), his own room, friends, and the hope that one day he can play football like his hero, Keiran Wakefield.
This is a story of football (plenty), family (loving) and food (some) alongside gangs, violence and brutal working conditions.
But ultimately, it is about hope and aspiration. Simple aspirations, realised through love, hope and the following of a dream.
This is a moving story, well told. Budi's voice is authentic, engaging and affecting. I came to love his family and was privileged to share in his story for a short while. As a parent in a (comparatively) affluent city, I was very aware of the harsh reality of Budi's life and how different it is from that of my own children's life.
It's a fast-paced read with football games, chases and grandma's meandering stories weaved through. An excellent debut.
ISBN 9781474928151